In the past years, there were several women that woven in their houses in the town of Erice, they created some real masterpieces. The tradition of the weavers is not handed down anymore unfortunately and there are now very few women that attempting this fascinating art.
"Antichi Intrecci" is a laboratory of handicraft weaving of "Ericini" carpets and fabric, it does so that this ancient art doesn't go lost.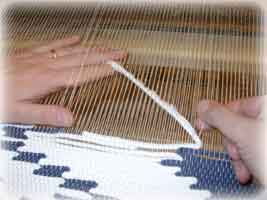 The name of the firm ("Ancient Textures") was born from a detailed research. It had to contain in itself the history, the traditions, what there is in a fabric... in a texture... an interlacement among ancient and modern, of materials, of colors, texture between weft and warp... where serve non common people, artisans of great experience, skilled hands that create the forms, they create precious details with great care and ability.
Our production is destined to all the people that desire to bring in their house a typical manufactured article, rich of colors and traditions.
For half artisans and for half artists, we are able to offer to you the unique fascination of the "done by hand". Our tool? One alone, or rather two: our hands.